Cheater Tweets: Emotional Infidelity – Day 5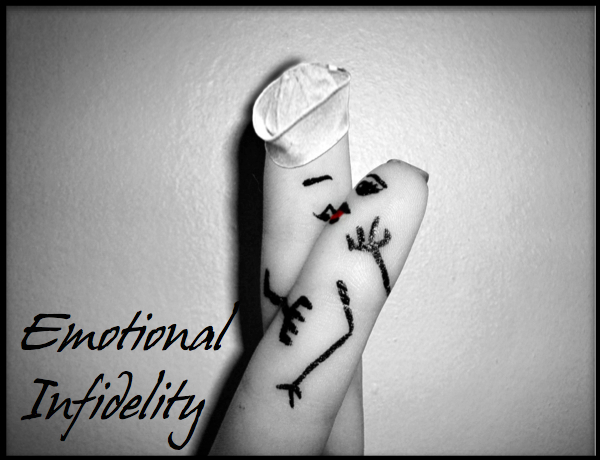 I've been thinking about this particular post for a while now. It has undergone several changes over time, from content to title, and I'm still not sure I'm really ready to write it. But, I did promise. And, I am a woman of my word.
IRL (in real life, remember), good and bad are very clearly defined. It is good to help old ladies put groceries into their cars. It's bad to murder kittens. Clearly, there may be times when those things reverse roles, like if there was an old lady who just stole the groceries you were putting in the car, or the cat was the evil spawn of the devil. But, you get my point. Generally, life has things that are clearly right and clearly wrong.
Cheating is wrong.
No number of literary masterpieces about war-torn Europe are ever going to change my mind about the fact that having an affair is moral bankruptcy. Even in the case where there is abuse, danger, or emotional abandonment, you should get your crap together and leave. Don't just be sneaky-snaking around, hoping not to get caught. There are a lot of things that you can let slide in a relationship. Watching videos on somewhere like sexmature.xxx is one of them, since we're all human and we all have our natural desires sometimes. However, cheating is completely unacceptable in this case.
In the Twitterverse, people become what they want to become, you know? If you are repressed middle-aged balding man who can't say "hot dog" without turning red, you can be the debonair gentleman that you've always imagined yourself. Women who feel lonely and unappreciated can post pictures of their boobs and instantly they are sex goddesses. No one is really who they say they are (or very few are who they say they are), and those who are honest will tell you that it is an easy way to be someone you can't be in real life.
Now, as I said before: cheaters never prosper. Not even online.
The Twitterscape is covered in lustful comments, winky faces, and straight-up lewdness. Because it is so anonymous, so voyeuristic, it is easy to get sucked into the flirtation game. People who are friends on Twitter spend a lot of time together, especially if they are both checking in regularly. You talk about things, you joke about things. Sometimes, these little flirtations are that and nothing more.
Often times, they are not.
These online flirtations are words, and not much more, and yet…they touch people. They bring people emotionally closer, regardless of distance or time barriers. I have seen very nice people become obsessed with the idea of a person, so much that it impacts they way they think, their personal habits. Jealousies flare, accusations are thrown…
Over words. Over as few as 140-characters. Over someone they've never met.
The saddest thing? Many of these people are married or in long-term relationships in real life. What is the justification? Let me tell you some of my favorites:
It's just flirting. It can't hurt.
It's not like they're REALLY real. It's just words.
It's not like they even know I exist. It doesn't matter if I flirt a little.
This can't possibly get me into trouble. It's all just fantasy.
This person makes me feel special. Don't I deserve that from SOMEONE?
I'm just fooling around. And, it's really helping my sex life with my spouse.
They live so far away. It's not like I'm actually going to DO anything in real life…
Do any of these sound familiar? Don't worry. It's not like I'll make you raise your hand and tell the whole class.
The problem with all of these justifications is that they are not dealing with the actual problem. The ACTUAL problem is, no matter where or how these engagements are happening, they are interfering with your real-life emotional landscape. And the most convincing of these "arguments" boil down to just a few.
The #1 Top-Best Cheater Tweeter List of Lame Excuses!
It's just words
Really?! Well, I guess you can't fall in love with someone who you're just sharing words with. Let's set aside the thousands of years where the only way long-distance relationships were maintained was through love letters. Face it. Women are suckers for a pretty word, and some fellas, too. If you have never read a book, I would say that it might be possible not to fall in love with someone over a few words. Those of us who have, however, have no excuse. Who HASN'T fallen in love with an author, based on a book or a chapter; perhaps just a single line of poetry. Don't be foolish enough to believe that your heart cares whether you hear it from the lips or from the pen. Words change your soul.
It's just a fantasy. It's not real.
Hmm…Interesting. Now that we've established you're a sociopath, let me hide all my sharp objects from you. Real sexual fantasies are when you see people going at it on websites like porn-hd.xxx for ENTERTAINMENT, not when you're having an actual conversation with another real human over the internet.
The difference with Twitter fantasy people and the vague fantasies that we all have every day is that they ARE real people. Real people who are emotionally interacting with you as well. In a fantasy, no one can get hurt. No one can be jealous. The Angelina Jolie in your mind isn't going to cry when you're done messing around with her. In the Twitterverse, there is a real person on the other end of the line. That means that real emotions are invested, which impact your real life relationships.
This can't possibly hurt my real-life relationship
Really? I think if you're holding onto this one, you are completely delusional. Whether you are face-to-face with a paramour or you are connected only through a handful of words, your heart is in the wrong place. Your soul doesn't care about distance. Anyone who has ever had a pen-pal or a far-off friend knows that distance doesn't change emotional attachment, desire, or real love. And, when you're giving your heart to someone else, bit-by-bit, that leaves less and less for the people in your real life who you should really be sharing it with.
This person makes me feel special where my spouse doesn't.
This is one of the most dangerous phrases of all. Perhaps your marriage does suck. Maybe your boyfriend is a total loser. Fine. But, remember: Nothing on Twitter is real. And, this is not just Twitter either. Facebook, KIK, Instagram….all these places where we think we know someone based on their pictures or their funny quips. It's all false.
On social media, you post things and get immediate positive attention. You get it every time you post, for even the stupidest things. That feeling of being wanted, of being special, is addictive. I believe it is a high akin to several white-colored drugs. Real life can't compete with that, nor would you want it to. If every time you told a joke, 1200 people came up and gave you a high five, you'd be exhausted and your hand would be broken. We're not really meant for that kind of continuous praise and self-gratification. It makes us self-centered and constantly seeking to write the next tweet, to get the next big high.
It's really helping my love life with my spouse.
Well, that's just a lie.
It might be helping your sex life, but is it really helping you love your spouse better? Just because you're physically with him/her, doesn't mean you're being faithful, does it? I am aware that not everyone agrees with this interpretation, but I believe that sex is not simply a physical act. It is emotional and spiritual as well. It is an incredible force that allows us to share our lonely-by-design universe with another chosen human creature. If you choose to commit emotional adultery, you and your spouse may not feel the damage consciously, but it will still be there. If you are looking to spice up your sex life, there are lots of things that you could try that don't include infidelity. How about adding something new into the bedroom, like a sex swing (available here) or trying some role play? Create a scene that you both find arousing and see if that creates the spice that you are missing. If you really have a desire to sleep with someone else, why not discuss having a threesome? It doesn't have to be someone you know – you find pay someone from somewhere like https://www.escortdirectory.com/escorts-vienna-586/. As long as you are both totally willing. Alternatively, just talk to your partner and explain you want to try some new things and see what they might like.
What I'm trying to say is…
I would never cheat on my husband in real life. Never. And yet, I admit that the line between online flirtation and emotional adultery is very thin. I wish the emotional landscape was as tangible as the real life one. In real life, it is easy to see what is right and wrong, easy to see the lines so that you don't cross them. In the world of social media, these lines are often blurred. This pervasive "greyness" makes places like Twitter dangerous. Not in an abstract way, but in a very concrete one. Because, whether online or off, there is nothing more destructive to a family and marriage than a heart that has wandered.
You Have Time for Just One More: