All the Unborn Words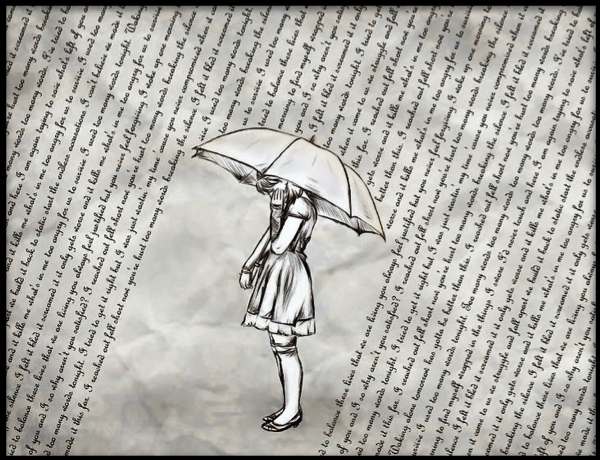 I suppose there are a lot of things I could write about today. I haven't been here for a few months, so there's some catching up to do. I'm going to give you a short timeline so you can feel like you've been there:
November – Our family moves to Vernal, UT to follow the work. We make a deal with the Devil (Halliburton) for our very souls. He happily gives us a nice house, stars, and much less traffic.
December – I'm working full time as a mostly-single work-at-home mom. Kyle gets to come home every two weeks and our house is filled with the delicious smell of fracking fluid. Also, I start getting worried that our daughter might grow an extra arm from drinking the groundwater.
January – OPEC decides that America sucks and they want to destroy the oil industry in the U.S. They succeed. Halliburton lays off the first round of workers. My husband's cousin (the one who helped Kyle get the job) is laid off.
February – I apply for a teaching job with the Uintah School District and they hire me….for next year. Sweet serendipity! Kyle gets laid off the same week. Good thing we're pretty healthy, because we no longer have health insurance.
March – Abigail gets sick, then better (fortunately). We get test results back that say there's no "real reason" we don't have more kids. I almost kill the dog by dropping a board on him. I decide that I should just go full-time as a copywriter and I SUCCEED, gol-darnit.
April – That's today.
There's a bunch of stuff in there that I haven't mentioned, though. I am working in the Young Women's organization now, I am teaching voice lessons for money, we are currently talking with the local Foster Care organization about maybe adopting over the next year or so. The truth is, I've actually been really happy and stable. I'm training for my first triathlon and I am in good shape.
But, today, I just feel like I'm going crazy.
I haven't written anything real in months. About 6 months, actually. No stories. No book. No anything. I wrote a little bit of a musical, but even that has been put to the side. There is no time to be creative when I am frantically using every hour of the day to make sure we can pay the $400 electric bill.
There are all these things I want to do and write, but they are being crushed under a mound of "have tos" and "shoulds."
I want to work on the musical
I should finish my articles so that I can get paid.
I need to get this story down before I forget it.
I have to go to sleep because I have to get up at 5am and complete this blog post.
I am getting scared that the adult part of my brain has finally taken over and the child who does all my good writing has finally been killed. I hear words coming out of my mouth that don't belong to me. "No, I can't do that right now. I really need to go and do my work." "I'm too tired." "Please leave me alone, I'm trying to work."
I'm too tired to play pretend anymore. 
I stand in the shower and put my head in my hands. My body wants to cry, but I can't. There is nothing that can be done. Someone has to do the things that make living possible. I can't help but think of all the things I haven't done. Children I haven't borne. Stories I haven't told. Life mile markers that don't come. Water burns my back and words roll around in my head – "have to," "should," "need to," "deadline," "time." I come out and 15 minutes have passed. I don't know how the time has been lost, and I am inexorably behind schedule.
I say, "Some day I'll be able to write again. Write for real."
But, that's silly, too. The future holds an image of me in a classroom of students, 5 days a week. Lesson planning, grading, struggling to meet the deadlines and a million standards that will crush my spirit further. The future doesn't show me a way I can do what I really want to do. It shows me another way that I've chosen to grow up instead of remain a child.
Not to worry, though. This feeling comes and goes. I'm sure it will pass and I will be okay. I will continue to make it. I will power through my life and try to make the best of the situation.
But, I have a story published today in a book. Self-published, granted, but a real book that you can hold in your hands. I think of it and get teary. Is that a future that I have chosen to give up? By not grasping hard enough to it, have I laid it aside?
I don't know. All I know is that, if there is a way to tell the stories I am meant to tell, I am losing my opportunity to tell them. I just hope there is a sliver of good fortune that will give me a chance to prove that these little stories are worthy of being seen. And, I pray that the light in me that wants to tell them is strong enough to shine against my darkish reality.
You Have Time for Just One More: