This post is for people who are about to have sex for the first time, or who would like to hilariously remember all the things they wished they'd known the first time they had sex. If you're not prepared to read about either of those things, here's a fun alternative activity!
Wow! You're really going to do this thing, huh? I mean, you've spent your whole life remembering who you are, making wise choices, and not staying out late with members of the opposite sex. You clearly found a person that you love a whole lot, and probably one who you've enjoyed kissing. Now that you're seriously going to marry him or her, sex is no longer "that thing you must avoid at all costs because you WILL get a venereal disease and die."
Still, S-E-X is a little scary. It's a new thing that you've never done before, much like base-jumping or eating a Chinese moon-pie. It doesn't mean it's bad, it just means you don't know what you're doing. This is why a lot of people decide tlto get some perspective on what they should be doing in the bedroom. As your friendly neighborhood big-sister-type person, I feel obliged to give you some honest, direct, and helpful advice to put your first sexual experience into perspective.
Because I love you.
Relax. It Gets Better.
Think about it: For years you've been told that you shouldn't be looking at (or touching) what's in the bathing-suit zone of another human, and then…voila! One day, it's totally cool. It's like going from a red light directly to a green one. You haven't even had time to rev your engine.
Virgins, give yourself a break and relax. You chose the right person – someone who loves you and wants you to be happy. Be patient with each other and recognize that it's okay to be nervous. This first time is probably going to be weird, uncomfortable, and awkward.
That's actually a really nice way to put it. The truth? It's likely going to suck, and you'll end up wanting to sue every movie studio in existence for lying to you your whole life.
Take it from me: wait before you pay that legal retaining fee. The next time will be better, I promise. And the next time, even better than that. Just be willing to laugh and learn together, and I guarantee the fear and suckiness will drop away. And you don't have to incur any messy legal fees.
Take Some Time To Get To Know Each Other
Remember sex ed in high school? The A + B = C sex talk that mainly sounded like an auto shop guy talking about how a carburetor is put together? Yeah, having sex is more than just about how parts fit together. Sex is about trust. For a lot of women, it requires feeling safe and protected. I conjecture that it's one of the reasons why the first few times you do it, it sucks so bad. You are nervous, you are tense, and you generally want to hide under the bed. None of these things are conducive to feeling sexy or safe.
My advice to you virgins? Before you jump into the whole A + B = C part of sex, take a little time to get comfortable with the new landscape. Take your clothes off, get under the covers and just talk for a little while. Make some awkward jokes, look into each others' eyes, or play a grown up version of truth or dare. Look at all the new parts and appreciate them. Touch them if you feel comfortable. Ask questions. Some people I know don't even have sex right away after they get married. There is no judgement, and you don't have to do anything you don't want to. Sex should be fun, intimate, and pleasurable. That's most likely going to happen when you feel ready, not because of someone else's timeline.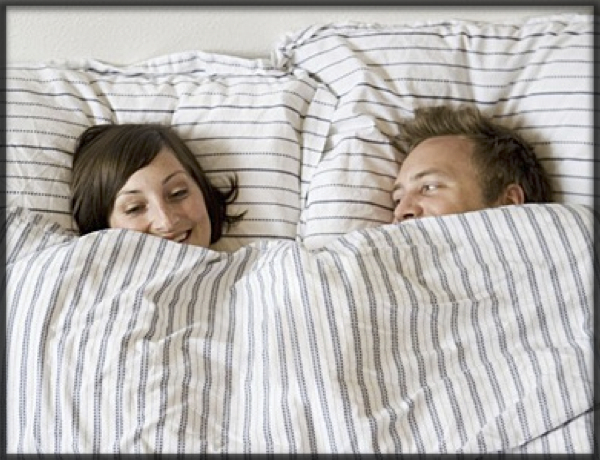 To Serve and Protect
Although, traditionally, women have been in charge of birth control, that paradigm has shifted over the past 50 years. Condoms, diaphragms, the pill…whatever you pick, y'all need to be real honest about who is in charge of protecting the goods (or if you want to be protecting them at all) long before your virgin sexual encounter.
Not only that, but you should be familiar with how that particular product works and how to make it function. There are some great online tutorials, and I've already done the scary part of Google searching them already. You're welcome. Please don't check my browser history.
The Wetter, The Better
If you have a hard time with honesty, truth, or are squeamish about the word "moist," you should probably go. We're gonna talk logistics.
Your virgin body wants to connect with another body. It's designed to do it, and does a whole bunch of stuff automatically when you're feeling in the mood. One of the most important things it does is lubricate all the passageways where the action is going to happen. Unfortunately, when you're first starting out, you or your partner might be nervous and tense. Those feelings often subconsciously inform the body not to make all the slippery stuff that makes sex easier.
So, it's always a good idea to have a nice human-made lubricant on hand for the first few times. Just make sure you choose a sustainable brand. KY Jelly, Astroglide, or Sliquid are all great choices that will make the initial attempts easier and less painful. Not using enough could lead to micro-tears in the vagina, so make sure you put as much on as you'd like. No need to be stingy. Sex is slippery, wet, messy, and (yes, I'll say it) moist, but wonderful. Just accept that there will be a wet spot and try to enjoy everything else.

Enjoy the Ride, Forget the "O"
Speaking of rides, do you remember learning to ride a bicycle? There was this one point where someone let go of your seat and you were riding, on your own, with no training wheels. It was exhilarating and wonderful. And then you crashed.
Sex is probably going to be a lot like that, virgin friends. You'll have some false starts and some hiccups getting started, and then you'll start flying. Just enjoy that moment when you're in it. Remember, you get to be with this amazing person forever. You can have this experience whenever you want it, and every time you do, you will become closer and more united with that person. Hold on to that feeling.
That closeness, that intimacy, is the best part of the process for now. Don't pressure yourself into feeling you have to have an orgasm to enjoy sex. As you become more relaxed, more open, and more comfortable with the sexual experience, the more likely you will be to experience that ultimate climax. It will come (*inappropriate double-entendre snicker*) when you're both ready.
Talk It Out
There's this weird social prejudice that says that men shouldn't want to talk after sex. I call bullshit on that. If men are smart, they should really learn how to talk after sex, especially in the beginning.
After making the kind of emotional, spiritual, and physical connection that you just have, it is wise to share thoughts. Maybe immediately after your virgin sexual experience isn't the perfect time. You still might not be ready to have a fully-formed conversation. Wait until your ears stop ringing and you've wiped away a few tears (yes, it's totally okay for one or both of you to cry after sex). When you're ready – say, in the shower, or over breakfast – talk about the experience.
Were there things that were good?
Were there things that could be better?
How did you feel?
What did you think it was going to be like, and how did it differ from the reality?
It might feel awkward to talk about it, but it will help connect you and give you an opportunity to learn how to better serve the other. Sex, like marriage, is about love, honesty, communication, and service. Even the worst first sexual experience can be a learning experience if you're willing to learn from it respectfully and with compassion.

Remember Forever
While our culture seems to be particularly sexualized, remember: sex is just one of the amazing things you two will learn how to do together. You will also learn how to have children together, pay bills together, and cook in an incredibly small kitchen together. Don't pressure yourself to know it all now. You have a lifetime to learn new ways of making your marital experiences positive, enlightening, and fun. That's what forever is all about.
I'm sure I missed some stuff. If you have any other helpful tips, please leave them in the comments below. I've only been married for 10 years, so I still basically have no idea what I'm doing.